Reliable Local Experts For Water Heater Repairs In Des Moines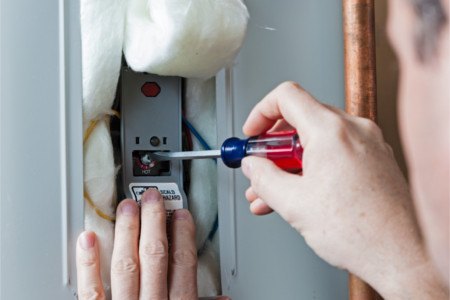 Water heater repairs are one of those tasks you'll find on your homeowners' to-do list from time to time. Finding the right team of technicians to handle the job is the key to keeping your water heater in tip-top shape.
Homeowners tend to ignore the warning signs, attempt to DIY the repairs, or hire a less-than-reputable contractor for the job. The correct solution is right in front of you - call On Time Professionals for exceptional workmanship.
When it comes to water heater repairs, we offer prompt and professional service to resolve your problem quickly and efficiently. We're your long-term solution resource, and we don't cut corners or take chances with your repair needs.
Common Types of Water Heater Repairs
Water heater repairs come in all shapes and sizes, meaning there are many different things that can go wrong. Make sure you let our pros handle your water heater installation so you can have your system working well from the start.
However, be on the lookout for signs that indicate you could have one of these common water heater problems:
Low or No Hot Water
Tank Leaks
Noisy Water Tank
Water With a Detectable Odor
Other Changes in Performance
It's really that simple - monitor your water heater for any modifications in performance. If you notice that something seems off, call our pros in to take a look.
It's better to catch an issue as it's developing instead of waiting for it to become a significant repair issue. In some cases, serious problems that are neglected, turn into the need for replacement before it should be time.
Choosing the Right Pros for Your Job
On Time Professionals is proud to be the preferred local experts for various jobs that homeowners need, including repairs for water heaters. Our goal is always to keep your household up and running; we know how important it is to keep your daily routine in order.
We'll always opt for repairs over replacement, when possible, and when agreeable for the customer. We want to save you money, but also want to do what will benefit you the most in the long run.
Our job is to take care of your water heater situation, but our goal is to build a long-term working relationship with our customers. Call us today and get the quality water heater repairs you deserve from a from a team you can trust.