AC Tune-Ups In Des Moines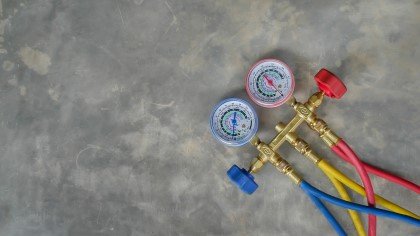 As your experienced local electrician, On Time Professionals provides affordable AC Tune-Ups for most major brands found in Des Moines area homes. Our technicians can give any type of central air conditioning, split system, heat pump, ductless air conditioning, and other types of HVAC systems the preventive maintenance it needs.
No one should have to suffer in their homes in discomfort, and that's what our AC Tune-Ups can help you to avoid. Our Des Moines heating and air conditioning repair services are focused on helping you stay comfortable in your home. We want to ensure you keep your air conditioning equipment in good shape so that you can avoid breakdowns and expensive emergency replacements.
Let our professional technicians take care of a seasonal Air Conditioning Tune-Up service for your Des Moines area home today. It's an essential way for you to enjoy the most comfort without worrying about getting in an emergency situation. Your home comfort is always a major concern for our service company.
Detailed and Thorough AC Tune-Ups
Licensed & Professional Technicians
Top-Quality Work and Service
Competitive Rates
Why Make Air Conditioning Tune-Ups A Priority
We understand how busy things can get at home. There's a lot of responsibilities to handle in your day-to-day life. However, there are some major reasons to make sure you get seasonal AC Tune-Ups for your home's cooling equipment.
Take a look at the information below, and then let's get your appointment scheduled before the next cooling season arrives here in Des Moines!
Get the most energy savings possible from your air conditioning system. There are hundreds of parts to test during the tune-up. Many parts need us to make adjustments. We'll also be lubricating different parts as well as checking specific areas such as the cooling refrigerant levels and drip lines.
Our air conditioning maintenance service can also take care of cleaning parts that need it. This can improve your home's indoor air quality as well as improve the energy-efficiency of the air conditioning equipment.
Not only will you increase the energy-efficiency for the equipment that you should be getting, but you'll also enjoy service from your air conditioner for years longer.
All home air conditioners have a thousand movable parts that need to be checked and tested for proper function. These different parts often need some fine-tuning to make sure they work at their best.
We'll be able to identify any parts that need to be repaired since we'll be assessing the system and checking it regularly. Getting the repairs done quickly after that will help you to avoid emergency breakdowns.